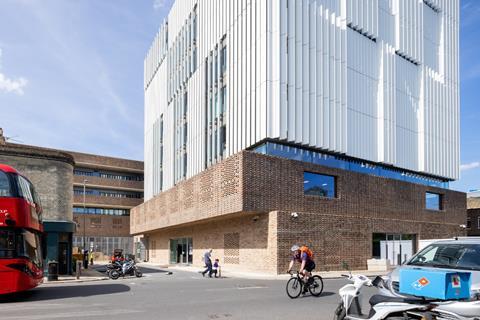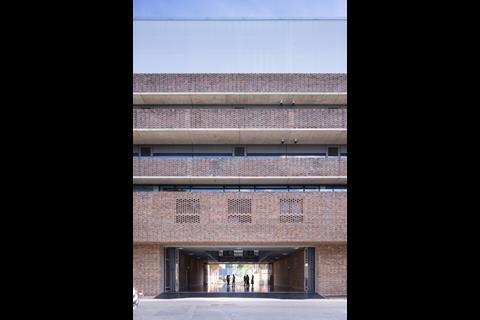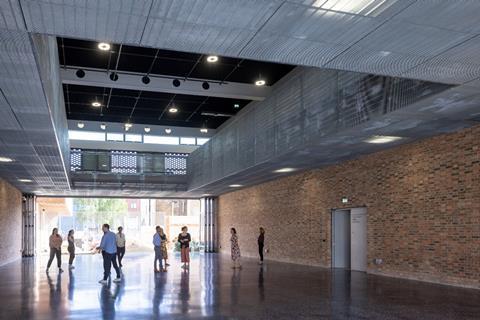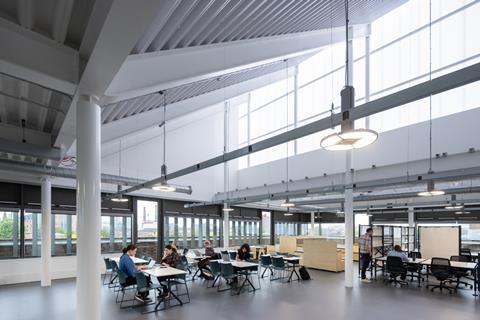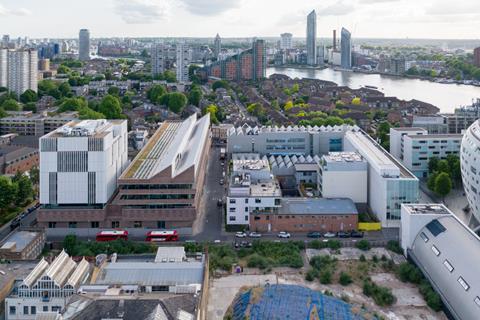 The Royal College of Art has thrown open the doors of its new Herzog & de Meuron-designed Battersea campus, described by the architects as a "civic connector" for the institution.
Herzog & de Meuron beat a shortlist including Diller Scofidio & Renfro and Studio Gang, Swiss-based Christian Kerez, French practice Lacaton & Vassal and Belgian firm Robbrecht en Daem in the competition for the project in 2016. Serie was the only UK architect to make the list.
The £135m development brings together four storeys of studios and workshops for sculpture, contemporary art, video and film, and design. It also includes a double-height 350sq m space dubbed "The Hangar" with large doors at either end to enable the installation of heavy, large, or complex works of art. A similar, but smaller, room provides research, testing and assembly space for sculpture and robotics projects.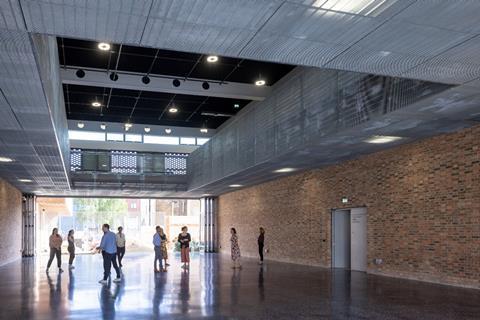 There is a new purpose-built home for the Helen Hamlyn Centre for Design, which undertakes design research and projects with industry that contribute to improving people's lives.
The campus also includes the Rausing Research & Innovation Building, which houses eight floors of dedicated independent and confidential research space for materials science, soft robotics, advanced manufacturing, intelligent mobility, and AR and VR visualisation.
Herzog & de Meuron said the campus in was conceived as "a porous and flexible 'territory' of platforms" on which the varied needs of the RCA curriculum were given space to change and grow, enabling the transformation of space as needed during this process.
"The studio and research buildings are designed as communities unto themselves – a place that encourages interactions between students, faculty and staff," the practice said.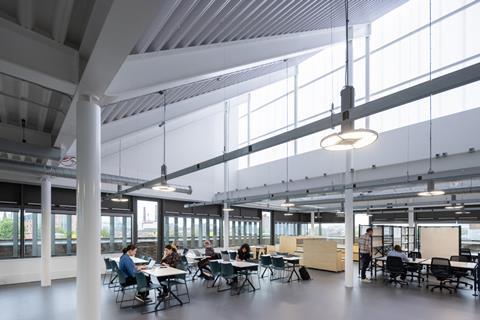 "Our intention is also to create a civic connector, encouraging circulation through the site and inviting exchange between members of the RCA community, the neighbourhood and wider city."
RCA chancellor Jony Ive said the new campus was a transformational development that would ensure the Royal College continued to reach out towards its local community, not least because public walkways intersect the site, referencing the original Victorian street grid of the neighbourhood.
"The Royal College of Art is a unique institution, rightly revered globally for the excellence of its postgraduate art and design education," Ive said.
"The dynamic created by this new building is remarkable. Our working environments have a powerful influence on the way we create and collaborate, and I am so excited for this new chapter in the life of the college and the inspirational work its graduates will bring into the world."
The interior fit-out of the new campus celebrates designs by RCA alumni and staff, and brings together furniture and fittings selected for their approach to sustainable manufacturing and energy efficiency.
The building has been certified as BREEAM "excellent" following a £3m investment, using a combination of integrated design and a commitment to low and zero carbon technologies.