LENOX — After the word went out from the Chamber of Commerce and the Wit Gallery seeking submissions for the town's first Student Art Show, more than 120 local students from grade 6 to 12 responded to the theme, "Belonging: Seeing Yourself and Others."
The show was created as part of the recent ArtWeek Berkshires. The students' work, representing "inclusion, visibility, what it means to be seen, belong, heard and valued," is on view at the Lenox Library's Welles Gallery through Oct. 25 (Tuesday through Thursday: 10 a.m. to 7 p.m.; Friday and Saturday, 10 a.m. to 5 p.m.)
A four-member jury, reviewing submissions from 12th graders, awarded Lenox Memorial Middle and High School senior Chloe Inhelder's painting, "Man's World," first-place recognition for artistic achievement.
"I had a voice, and a way to put out a message was through this opportunity and through my art skills," Inhelder, 17, of Lenox, told The Eagle. She's in the LMMHS Advanced Placement art course, taught by Lesliejohn Roche until her recent retirement and now by Alexa Bermudez.
"Chloe responded with a lot of depth of feeling and thought," said Deirdre McKenna, one of the four contest judges. "It's quite a complex piece, a lot of layers about gender, women and roles."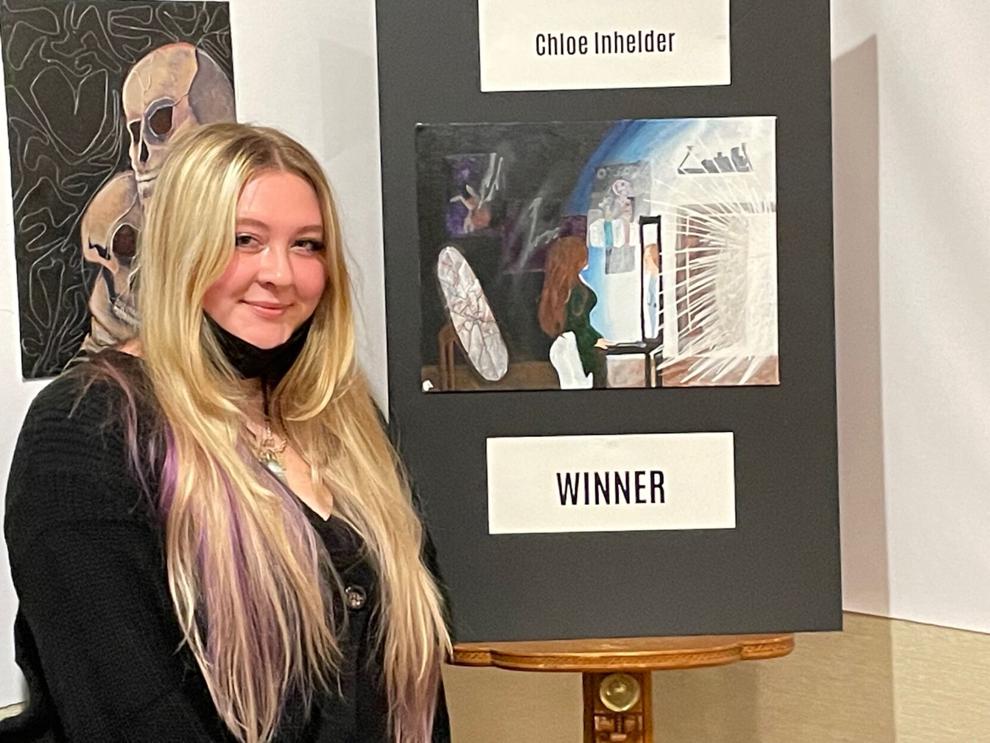 McKenna, the creative services manager for the Chamber of Commerce, commented that "we all felt very strongly she went that extra step and was committed to the theme. We appreciated all of the wonderful pieces, and Chloe's was the cream that rose to the top."
Inhelder was awarded a $250 scholarship by the jury, which also included Wit Gallery owner Lynda Strauch, Sharron Frazier-McLain, the community engagement coordinator for Barrington Stage, and local resident Jeff Minkler.
Here's a portion of the conversation with Inhelder:
Q: What motivated you to submit your work?
A: I was very intrigued by trying to put forth a message on what it feels like to be accepted. I really wanted to show women how important it is that they leave behind all of the degrading words they encounter day-to-day and look for the light, the open door for career paths.
Q: Who do you credit for inspiring you?
A: My parents, Amy B. Emerson-Inhelder [the Cheshire Library director] and Matthew N. Inhelder [a chemist who works in the Albany area]; my grandmother, Christine B. Emerson, who always pushed me to do what I wanted to do; my art teacher for most of high-school career, Ms. Roche, and my current teacher, Ms. Bermudez. She brought in a flyer in the beginning of September, asked us to focus on the prompt and try to project on our canvas what first came to mind. I had two weeks to work on it and put in as much time and effort as I could. I wanted to show a woman isn't just confined to housewife or mom. There are multiple sides to what a woman is, what she can be and truly wants to be.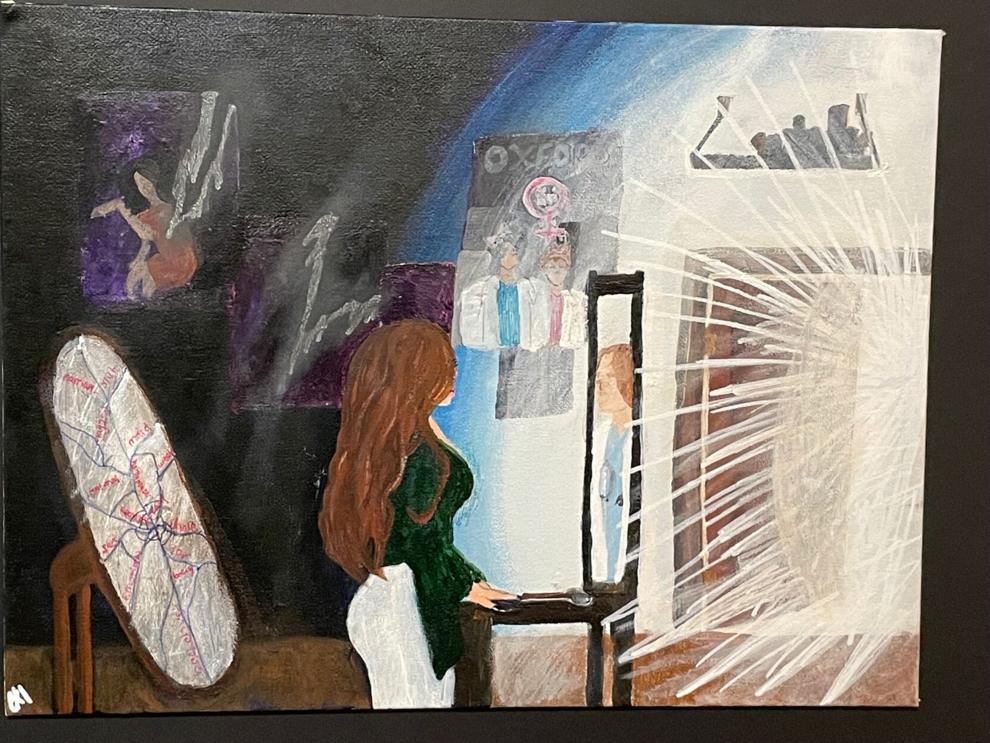 Q. How did you get the news that you won?
A: I was in my last AP art class of the day, and Ms. Bermudez said she had exciting news. But I had my Airpods in, so I missed it. When she told me later that I won the art show, I was very excited and surprised, I didn't think I would win.
Q: Do you plan a career in art?
A: I would love art to be my career path, but I'm going into the medical field, to become a radiologist or radiologist technician. Art is definitely where my heart first was, but money is a big thing in America.
Clarence Fanto can be reached at cfanto@yahoo.com, on Twitter @BE_cfanto or at 413-637-2551.